small spaces Ꚙ capabilities
The concept of a micro-apartment can be defined as a small living room with a higher standard and an area not exceeding 30 m². It can mean a small hotel room (aparthotels) or a Studio apartment for rent in a holiday resort or a large city, a student room in a dormitory, or a small apartment with a kitchenette. It is an offer mainly for young active people on the go, people starting an independent life, students, people starting a professional career, as well as managers working on contracts.
The most important factor why micro-apartments are becoming an increasingly attractive offer on the real estate market seems to be the growing cost of buying or renting an apartment in a large city or resort. An important reason is also technological progress, thanks to which we can comfortably live in a small area today. Until recently, thick dictionaries, books, CDs, newspapers, Hi-fi equipment, computers, internet modems, photo albums, etc. were on our shelves. Thanks to the development of the Internet as well as technological progress, today we use it in a virtual form, without having to collect unnecessary items. Electronic equipment is getting smaller, handier and cheaper every year. Our lifestyle has also changed significantly. Society is definitely more mobile and open to new challenges. Temporary work or studies in another city are seen as an opportunity for success, good earnings, experience and new contacts. Young people want to experience youth longer, so they start a family later. We spend much more time away from home, e.g. in cafes, fitness clubs, and outdoor activities. While going to work or on vacation, we want to feel the homey atmosphere of the rented apartment, in which we can wash, cook or eat at a convenient time. As a result of economic development, we also have higher expectations regarding quality and comfort. Modern students do not want to live with many roommates. They want to have more privacy, space, learn and relax in comfortable conditions. Micro-apartments are therefore a response to all of these challenges and needs.
Arranging a limited space of the micro-apartment in a modern, comfortable and functional way can be a challenge for architects and their owners. It is necessary to ensure the basic functional utility of the room while maintaining the effect of space and providing good design. These types of projects have their own rules. Micro-apartments must be cleverly planned in terms of functionality, color, texture and materials. The goal of the microom brand is to meet this challenge and provide you with extraordinary, ready and smart furniture sets dedicated for small spaces. We enthusiastically use the growing trend of modern design in Poland, which we combine with the multi-generational furniture tradition. The company cooperates with professional design offices and designers who, using creativity and imagination, design unconventional solutions. Based on over 30 years of experience in furniture production, we transform the design project into ready collections, guaranteeing you the highest quality and precision of workmanship.
Examples of functional arrangements of microapartments.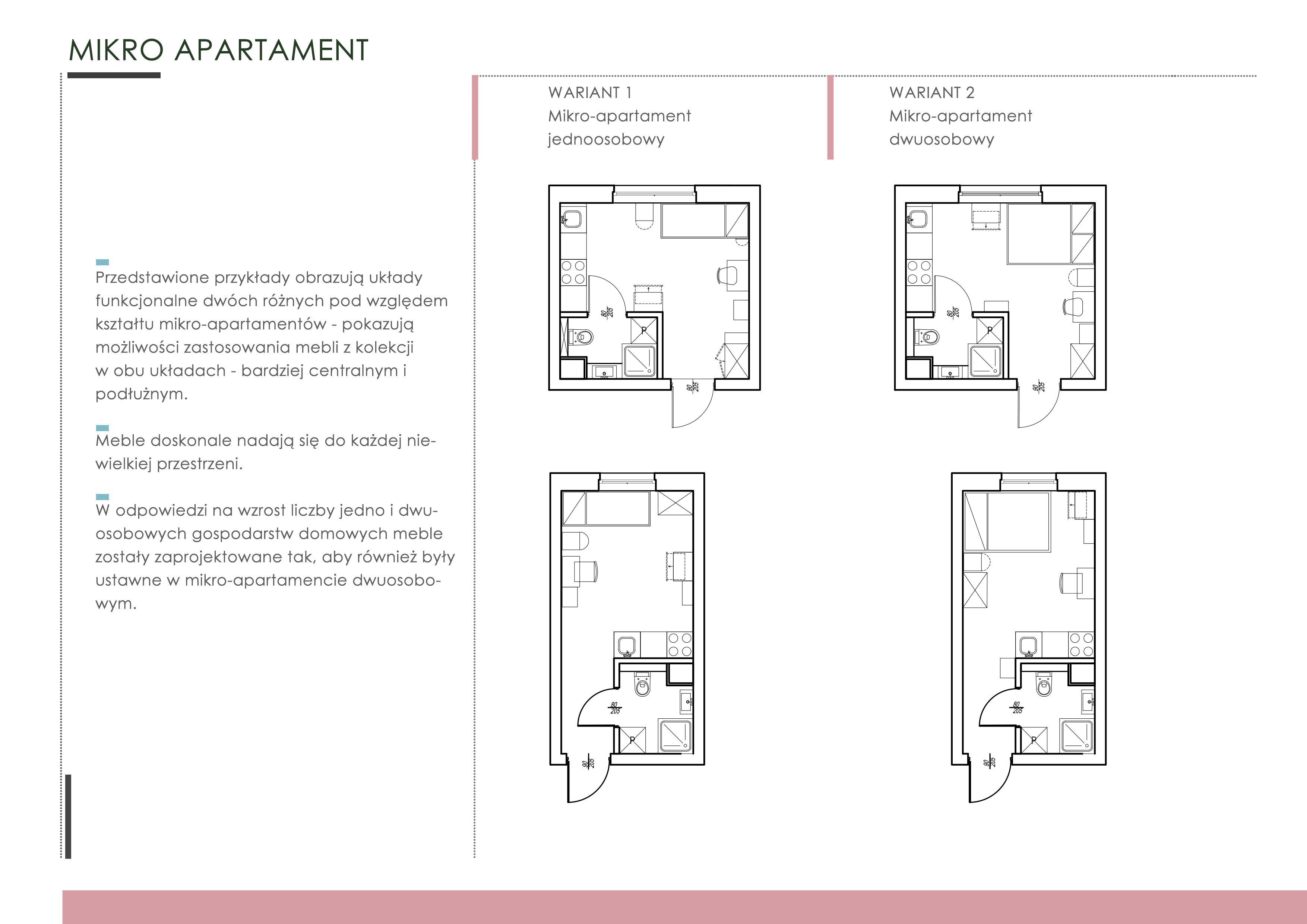 Drawing: Biuro Kreacja, Dorota Terlecka.